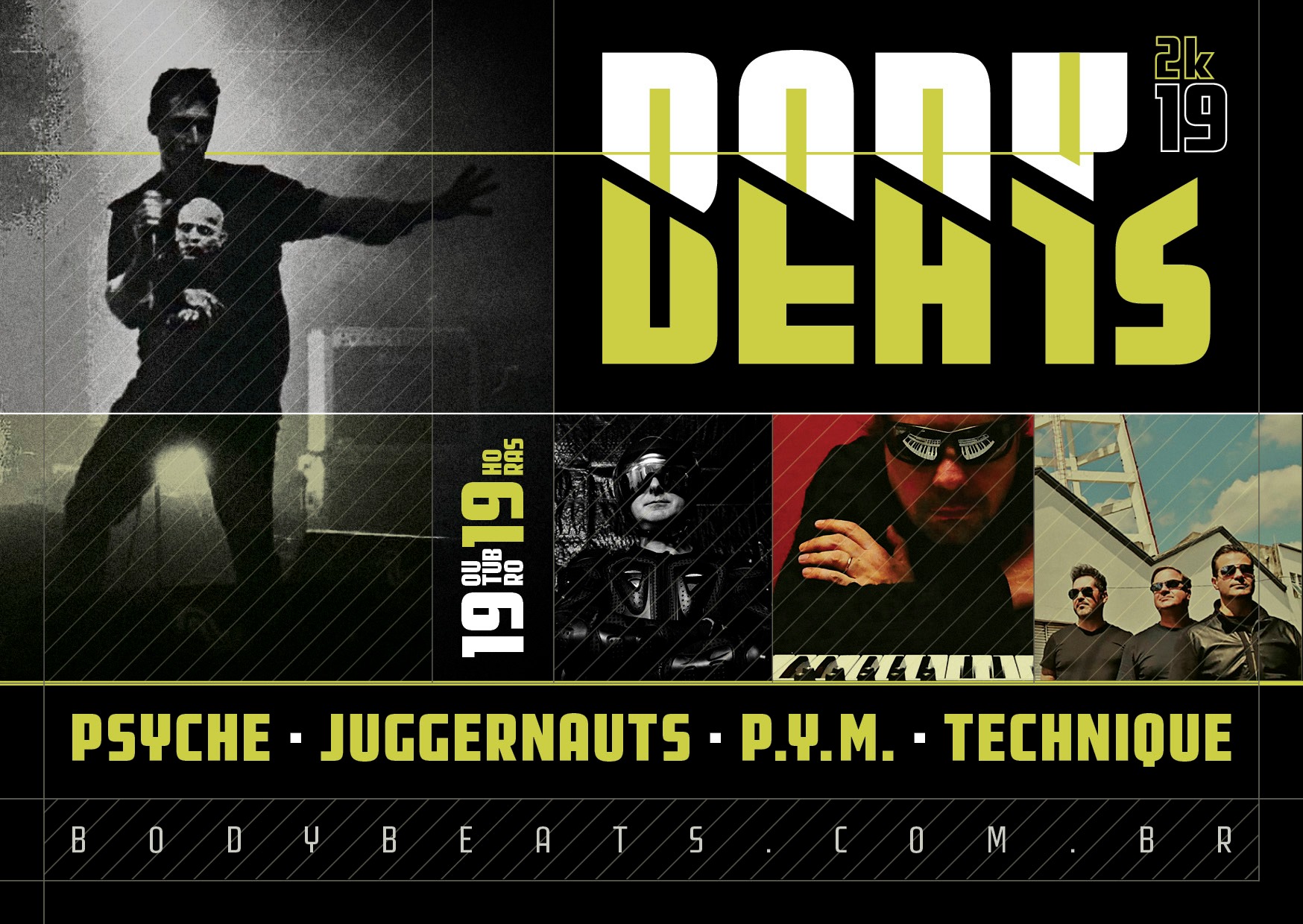 FESTIVAL BODY BEATS 2019
Body Beats Festival 2019 – ((MADAME))
Sábado, 19 de Outubro de 2019
Shows: PSYCHE – TECHNIQUE – PYM + THE JUGGERNAUTS
Djs: Borg + Rodrigo Cyber
Ingresso da direito a entrada no BODY BEATS FESTIVAL e em todo o MADAME durante toda madrugada de sábado para domingo.
Madame Club:
Rua Conselheiro Ramalho, 873
Bela Vista – SP
Tel. (11) 2592-4474
Inicio: 19 hs
Término: 03 Hs
Censura: 18 anos
Estacionamento ao lado
Limitado em 300 pessoas
R$ 150,00 Estudante Meia entrada / Promocional (até 18/10)
R$ 300,00 Porta (19/10)
———————————————————–
PONTOS DE VENDA INGRESSOS:
Wave Records web site
Noise Democracy web site
Locomotiva Discos (Rua Nova Barão, Piso Superior loja 8) Tel. 11-3255-4963
Reversa (Galeria do Rock) (1- andar Tel 11 3337-0645
Madame – Caixa da casa Sex/Sab/Domingos
———————————————————–
SHOWS:
PSYCHE + PYM + TECHNIQUE+ THE JUGGERNAUTS
INGRESSO LIMITADO, QUE DÁ DIREITO AO EVENTO SÁBADO DIA 19 + MEETING AND GREETING NA SEXTA-FEIRA DIA 18.
SOMENTE PRIMEIROS 50 INGRESSOS DÃO ESTE DIREITO
* venda deste ingresso somente aqui:
WAVE RECORDS:
https://waverecords.lojavirtualnuvem.com.br/ingressos/
ou
NOISE DEMOCRACY:
———————————————————–
INFORMAÇÕES GERAIS:
Meeting and Greeting – Body Beats Festival 2019 – ((ESPAÇO SOM))
Sexta-Feira, 18 de Outubro de 2019
Os primeiros 50 ingressos comprados para o Festival Body Beats dão direito ao evento extra que acontecerá no Espaço Som, no Estúdio A.
O evento será um Meeting and Greeting com as Bandas Psyche e e terá shows das bandas nacionais Coma Frequency e Primal Violence. Possibilidade de shows surpresas durante o evento, que não podemos divulgar agora.
As bandas estarão disponíveis para fotos e autógrafos, bem como serão vendidos merchandise das mesmas.
Espaço Som é:
Rua Teodoro Sampaio, 462 e 512
Pinheiros – CEP: 05405-050
São Paulo / SP
Inicio: 19 hs
Término: 23 hs
———————————————————–
Atenção: Já a venda
50 primeiros tem direito ao MEETING & GREETING
Ingressos para o Body Beats 2019 @ Madame
#psyche #pym #technique
Psyche
Technique
Pitch Yarn of MatterMatter
The Juggernauts
Compre c/ cartão e receba em casa seu ingresso.
R$ 150,00 Estudante Meia entrada / Promocional
R$ 300,00 Porta